Fiverr Early Payout: Get Your Money Faster
Fiverr Early Payout: Get Your Money Faster
Are you tired of waiting for your earnings on Fiverr? Do you want to access your funds immediately instead of waiting for the usual pending clearance period?
In this comprehensive guide, we'll explore everything you need to know about Fiverr Early Payout, including how it works, eligibility criteria, fees, and whether it's worth it for you. So let's dive in and discover how you can get your money faster on Fiverr!
Understanding Fiverr Early Payout
Fiverr Early Payout is a system designed for eligible sellers that allows them to withdraw their earnings immediately, bypassing the typical 14-day pending clearance period (only 7 days for Pro gigs and Top Rated Sellers).
With Fiverr Early Payout, you can access your hard-earned money faster than ever before. However, it's important to note that this service comes with a 1% fee.
But don't worry, we'll delve into the details of the fees and whether Fiverr Early Payout is worth it later in this article.
How Does Fiverr Early Payout Work?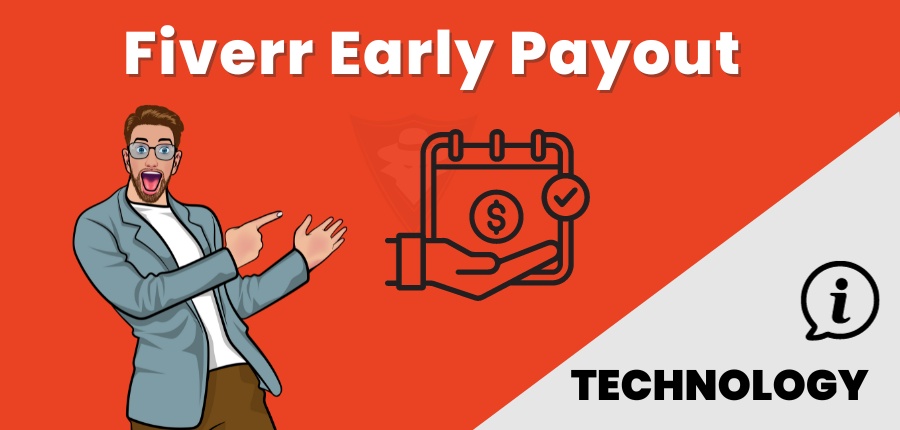 Fiverr Early Payout offers you the opportunity to withdraw your earnings on a gig-by-gig basis, allowing you to choose which specific earnings you want to access immediately.
To access Fiverr Early Payout, simply navigate to your Earnings page on Fiverr. Scroll down to the activities table, where you'll find the option to request an Early Payout next to eligible earnings.
Clicking the "Early Payout" button will reveal the fee associated with the withdrawal. If you're satisfied with the fee, click "Get Paid Now" to make the funds available for withdrawal.
Steps to Get Fiverr Early Payout
To make the most of Fiverr Early Payout, follow these five simple steps:
Go to your Earnings page on Fiverr.
Scroll down to the activities table.
Click the "Early Payout" button next to the earnings you wish to withdraw.
Review the associated fee and determine if it's acceptable to you.
If you're satisfied, click "Get Paid Now" and withdraw your earnings using your preferred payment method.
Eligibility for Fiverr Early Payout
Not everyone is eligible for Fiverr Early Payout. Fiverr determines eligibility based on your performance on the platform and your history with buyers. Your eligibility is assessed automatically and can change from day to day.
Keep in mind that not all gigs are eligible for Early Payout. Orders that are automatically marked complete, without manual confirmation from the buyer within three days, are not eligible.
This is because Early Payout is designed to circumvent the pending clearance period, which protects both buyers and sellers in case of chargebacks or refund requests.
Timeframe for Fiverr Early Payout
The timeframe for Fiverr Early Payout depends on your chosen withdrawal method. While Early Payout clears the earnings for withdrawal, it does not affect the processing time of your payment method.
For example, if you choose to withdraw your earnings through a Fiverr Revenue Card, the availability of funds within 2 hours requires an additional $3 fee. Otherwise, you can expect the usual two-day processing time, accompanied by a $1 fee. It's important to consider the additional Fiverr Early Payout fee when calculating the total amount you'll receive.
Understanding Fiverr Early Payout Fees
When using Fiverr Early Payout, a 1% fee is charged per withdrawal. This means that for every $10 you wish to withdraw, a $0.10 fee will be deducted.
It's worth noting that Fiverr already takes a 20% cut of your earnings before they're available for withdrawal. However, this 1% fee applies on top of the 20% commission.
Despite being limited to individual orders, the fees remain consistent whether you apply Early Payout to one order or multiple orders simultaneously.
For example, if you apply Early Payout to ten orders, each earning you $10, you'll incur ten individual $0.10 fees, totaling $1, which is equivalent to 1% of the combined sum of the ten orders ($100).
Is Fiverr Early Payout Worth It?
Now, let's address the burning question: Is Fiverr Early Payout worth it for freelancers? The answer depends on your circumstances.
If you occasionally complete high-value orders and need quicker access to your funds, Fiverr Early Payout can be a valuable tool. It eliminates the waiting period and ensures you have the money when you need it.
However, if you primarily handle numerous small orders, the 1% fee, combined with any withdrawal fees, may accumulate and make Early Payout less advantageous.
Assess your financial situation and consider whether you can withstand the 14-day clearance period before deciding whether an Early Payout is worth it for you.
Final Thoughts on Fiverr Early Payout
Fiverr Early Payout is a valuable feature that empowers sellers to access their earnings faster. By following the steps outlined in this guide, you can take advantage of Early Payout and avoid the typical pending clearance period.
Remember that eligibility for Early Payout is determined automatically based on your performance and compliance with Fiverr's Terms of Service and Community Standards.
While there is a 1% fee associated with Early Payout, it remains a convenient option for freelancers who need their funds sooner. Evaluate your circumstances, consider the fees, and decide whether Early Payout aligns with your financial goals on Fiverr.
For more tips and insights on maximizing your earnings and success on Fiverr, be sure to check out our other guides as well.
Disclaimer: Please note that the information provided in this article is based on available resources at the time of writing and may be subject to change. Always refer to the official Fiverr website for the most up-to-date information.