Israel claims steady progress in fight with Hamas, amid political, diplomatic uproar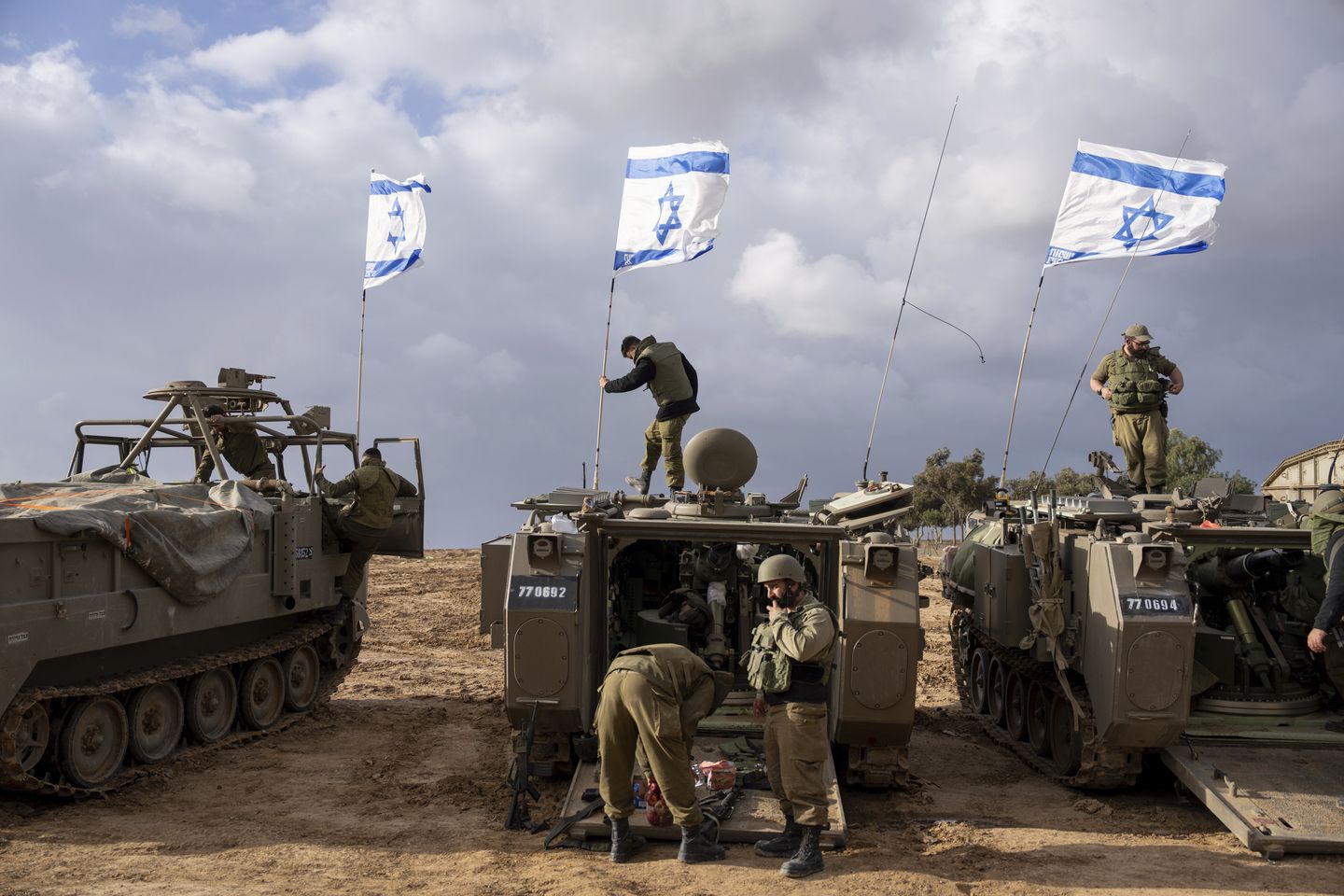 NETIV HAASARA, Israel — While global pressure for a cease-fire and relief for trapped Gaza civilians grows by the day, Israeli commanders said Monday they are making steady progress against their main target — Hamas militants dug in throughout the densely populated enclave.
Israel has hammered Hamas fighters in the northern Gaza Strip in the month and a half since Hamas launched a massive surprise attack on Israel on Oct. 7 that killed more than 1,200 Israelis and foreign nationals and captured an estimated 240 hostages.
A senior Israel Defense Forces official said on Monday that the IDF is steadily degrading Hamas's "battalions" of fighters. A battalion in Western militaries is usually made up of several hundred soldiers. Hamas battalions may have as many as 1,000 fighters in each unit.
---
---
The IDF claims to have inflicted heavy losses on 10 of these units and shattered several of them.
"The Hamas terrorist organization has suffered significant losses to its chain of command, its junior commanders, its weaponry and intelligence capabilities," the IDF told reporters in a briefing here Monday at a small Israeli settlement on the northern border of Gaza.
 
The shooting war continued as events on the political and diplomatic front advanced as well.
In Washington, White House National Security Council spokesman John Kirby told reporters that negotiators were "closer than they've ever been" to the first significant "humanitarian pause" in the fighting to allow Gaza civilians to escape the fighting and to allow economic and humanitarian aid into the enclave.
---
SEE ALSO: Hezbollah attacks Israel in the north as fighting in Gaza Strip continues in the south
---
Israel, the United States and Qatar, which mediates with Hamas, have been negotiating a hostage release for weeks. The cease-fire deal also would likely mean the release of some of the Israeli hostages held by Hamas in exchange for the freeing of Palestinians now held in Israeli jails.
"We're still working this hour by hour …," Mr. Kirby said, "so we're hopeful. But there's still work to be done."
There were fresh reports of new civilian casualties caught in the crossfire between Israeli ground troops and Hamas fighters. World Health Organization officials sharply criticized reports that 12 people, including patients, had been killed at an Indonesian-run hospital, the last major health facility still open in northern Gaza.
The humanitarian group Doctors Without Borders said a clinic it operates in Gaza City came under attack Monday morning, although it was not clear who was responsible.
"We are witnessing a killing of civilians that is unparalleled and unprecedented in any conflict since I have been secretary general," United Nations chief Antonio Guterres, who has been sharply critical of the civilian toll from Israel's retaliatory air and ground campaign, said Monday.
Israel says Hamas leaders deliberately use Palestinian civilians as human shields claiming the militant group operated a major command hub inside and beneath al-Shifa, the largest medical complex in the enclave. Some 1.7 million Gazan residents, more than half the population, have been displaced, with 900,000 now staying in increasingly stressed U.N.-run shelters.
---
SEE ALSO: Israel Defense Forces say captured Israeli soldier killed by Hamas, not friendly fire
---
In a move that could relieve some of the pressure on Gaza's collapsing health system, The Associated Press reported that dozens of trucks entered from Egypt on Monday with equipment from Jordan to set up a field hospital. Jordan's state-run media said the hospital in the southern town of Khan Younis would be up and running by midweek.
Drone warfare
Hamas, which both Israel and the U.S. consider a terrorist organization, has up to 30,000  fighters in the Gaza Strip, including naval commandos with access to air defense weapons such as SA-7 shoulder-fired missiles and drone operators.
Hamas drones were used on Oct. 7 to take out Israeli border observation towers and destroy remote-controlled guns. IDF Merkava tanks have now been outfitted with simple metal cages to protect against drones.
After three weeks of ground operations in Gaza, which began on Oct. 27, Israeli military officials say they have surrounded Gaza City in the north and taken control of numerous neighborhoods. This has pushed Hamas back and cut off Hamas members in the northern half of the narrow strip of land from those in the south.
 
Hamas tried to confront the IDF in various northern neighborhoods, such as Jabalya, Beit Hanoun and Shati. Shati was established as a refugee camp in 1948 and sits near the beach in Gaza in a densely populated neighborhood.
The IDF has called on civilians to leave these areas. While an estimated 1 million people have left northern Gaza, thousands of Hamas fighters are believed to have remained behind. They use sniper rifles, rocket-propelled grenades and anti-tank missiles, evading Israeli ground and air forces through an extensive network of underground tunnels.
Some 65 IDF soldiers have fallen in the ground operation, several each day of the offensive. But Hamas, Israeli officials say, has taken by far the brunt of the losses.
 
IDF officers point to the Shati battalion as an example.
The IDF's 401st armored brigade and Nahal infantry took Shati camp in battles that began around Nov. 10. The Hamas battalion in the neighborhood lost its deputy commander and several company commanders, and the IDF says "200 terrorists" in this unit were eliminated.
Another Hamas unit, the Daraj Tuffah battalion, also lost 260 fighters, the IDF estimates. The loss of so many men, with Hamas having a way to train and replace them, makes it harder for Hamas to maintain its command and control systems, the IDF believes. Units that suffer heavy losses don't always become ineffective. A 1986 unclassified study at the Institute of Defense Analyses in Alexandria, Virginia, concluded that some units that suffered heavy losses historically continued to fight cohesively.
Pushed back
 
The slow, grinding defeat of Hamas units in areas around Gaza City continued apace Monday.
The IDF said that soldiers from the Golani Brigade attacked Hamas members in the Zaytun neighborhood south of Gaza. Golani infantry had played a key role in the fighting since the first day of the war when they suffered the brunt of the Hamas attack on Oct. 7.
Over the first week of fighting in Gaza after the ground invasion, they raced across the Gaza Strip and effectively cut the enclave in two, so Gaza City was surrounded and cut off from southern Gaza. Then they turned north.
"The soldiers of the Golani Brigade led the beginning of the fighting against [the Hamas Zaytun brigade]. The soldiers have engaged dozens of terrorists, conducting battles at close quarters with them, and have eliminated many of them," the IDF said on Monday evening in Israel.
The IDF said troops worked with combat engineers and tanks from the 36th Armored Division to fight an "enemy that is entrenched in the heart of residential neighborhoods, hospitals, schools and kindergartens, and attacks from within civilian infrastructure."
 
While Hamas has suffered losses in northern Gaza and its 10 battalions appear to be surrounded, it still has thousands of fighters in the southern Gaza Strip, where most civilians are now concentrated. Humanitarian aid is now flowing to southern Gaza: France has sent a warship, the helicopter carrier Dixmude, and the Jordanians, United Arab Emirates, Saudi Arabia and others have sent trucks with goods as well as field hospitals.
 
Israeli officials said that rocket fire from Hamas positions inside Gaza has been reduced over the last week. Nevertheless, several rockets were fired toward central Israel on Monday evening.
One was intercepted by "David's Sling," Israel's medium-range air defense system. Sirens sounded over a swath of Israel, sending more than 1 million people to shelters as rain and wind slammed Tel Aviv.
• This article is based in part on wire service reports.